Carnival King CM16 16" crepe maker
So tell me, what is the best way to start a day? Well, while some would say it is coffee, others would recommend working out. What it proves is that everyone has different preferences. But, we can all agree on one simple point - a happy day starts with a yummy breakfast.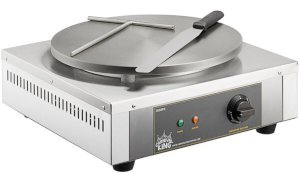 Then what are the options? For me, I would love hot pancakes with some honey spread like heaven on them. Or, how about some skinny thin crepes? Both sound lovely, right? It would taste even lovelier when you have the best commercial crepe maker. So, here's my review on Carnival King CM16 16" crepe maker, which I consider the best.
Features of Carnival King CM16 16" Crepe Maker
So what makes the crepe maker one of my top choices? Certainly, the features play a huge role in that. So, let's move forward and see what is so different in it.
Build Quality
While buying any appliance, one should always run a quick look at the machine's build quality. A robust build ensures durability and protection for ages. So, when I got to review the product, I found it impressively sturdy. It has a durable metal build that can withstand any harm.
The 16" diameter plate is also made of cast iron, which gives it a pretty advantage in almost any field. For added stability, the machine comes with rubber feet. So, you can confidently work resting it on workstations or countertops. However, it does not have any handle, which I quite didn't like.
Larger Space
For a good start to the day, one has to make things as perfect as possible. And when it comes to breakfast, you won't want disappointment. After all, who would want to start their day with an empty stomach?
I wouldn't, so I always recommend everyone to buy a crepe maker at least having a minimum plate diameter of 12". And, if you have a restaurant to run, 14" should be your minimum requirement. But, hey! With the Carnival King CM16 16" Crepe Maker, you get a larger plate of 16"- enough to make professional chef-like crepes.
Temperature Control
Temperature control is a crucial thing to make the perfect crepes. And if you don't know how to use it properly, you will end up with a disappointing result. It happened for me when I first tried making one on my own. But with modern crepe makers like the Carnival King CM16, it should not be an issue.
The crepe maker has six temperature settings, ranging between 120-570 degrees Fahrenheit. So, you can always set your desired temperature and cook accordingly. You can try out different recipes, starting from pancakes to handmade tortillas and crepes.
Ease of Use
Appliances are made to make things easier. And when these reside in the kitchen, they make it smoother as well. But with something complex, you won't just face problems but will have difficulties understanding how to use it.
So, another advantage of using the Carnival King CM16 is that it is extremely easy to use. It does not have any complex features or controls that you need to learn separately. The electric crepe maker only has a temperature control, along with two indicators that tell you when the machine is ready and when it is not.
All you have to do is to plug in the device and set the temperature. Now, put it on the preheat and then pour the batter on it. Spread the batter evenly across the plate. Once it's light brown, flip it, and voila! Your crepe is ready.
Easy to Clean
Cleaning can be a headache after cooking. Well, I do hate the job and thinking about it makes food-time harder. So, I always look for appliances requiring the least cleaning or easy to clean. Thankfully, the Carnival King CM16 has both. It is both easy to clean and does not require any special effort.
The 16" diameter plate is made of non-stick cast iron. So, there's no sticking of batter to it. You can run a wet cloth on it and clean it easily. Plus, crepe or pancake making does not demand much hard work. So, the mess is less if you do it carefully.
Portable
Holy heaven! I never expected a commercial crepe maker to be this light. It doesn't have a 16" cast iron griddle, but it still weighs so little that you can easily move it from one place to another. Plus, it has a very compact design. So, you can put it anywhere you want or use it in food trucks or small prep areas where you lack space.
Pros/Cons
Pros:
Lightweight and compact
Thermostatic temperature control with 6 temperature settings
Indicator lights for power and warming
Easy to clean
16" diameter cast iron plate
Cons:
FAQ
What can you cook on a crepe maker?
A crepe maker is a versatile appliance that lets you cook many things along with tasty crepes. You can cook pancakes, eggs, grilled sandwiches, galettes, and many other exciting recipes that need a pan.
Are crepes healthy?
In today's world, finding a tasty yet healthy diet is really hard. However, among the limited options that we have, crepes are on top. Our body requires minimum sugar to thrive. But too much of it can cause various problems like obesity and diabetes. Crepes consist of a minimal amount of sugar, which is good for health. You can make crepes healthier by including multiple fruits in the recipe.
How many pans does the King CM16 have?
The Carnival King CM16 is one of the best crepe makers having one 16" pan. It is made of non-stick cast iron, which is both durable and healthy.
Conclusion
A fresh start to the day decides how the rest of it is going to go. So, it should have something unique. With the Carnival King CM16, I can guarantee that you can have a perfect head start to the day.
With the discussion coming to an end, I would only like to remind you that these were the exact points that any good crepe maker should have. Hence, if you plan to buy one, look if the option qualifies all these.