Raspberry Bellavitano
Author : Efrain Silva
You may have heard of Sartori cheese before : Raspberry BellaVitano is one kind of such cheese, falling under a sub - category of it, if you will. Many call it a beautiful lie or a cheese that is too good to actually be true. But it is.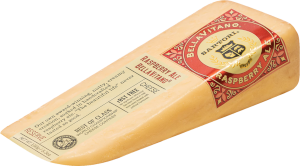 This is an Award Winning cheese, by the way, so show some respect! Haha. Joking but serious. It has been awarded many times over and is now world - renowned, so you can find it just about anywhere. Plus, modern commerce and technology have now made it easy to find locally, almost anywhere, or to order it online from almost anywhere. Man, I love the 21st century, don't you?
Ruby red raspberries come together to comprise much of the nice flavor and overall look of this cheese, which is but one thing that makes it so darn special. And in addition to that, you get the nice combo of butter nut flavors (in most selections, but this can depend on where you get it from, which brand and maker) with some quality hazelnut thrown in there. I especially love the way people in Wisconsin make this cheese ; I have sampled it there at my last vacation to see my cousins.
Wisconsin, of course, is the home of cheese, as they call it. At least, it is the U.S. hub for getting some of the best cheese around. Oh, how we Americans all love Wisconsin! This cheese looks pale yellow, especially when it's Wisconsin raised. It's a hard type of cheese, as well, but no less delicious than a Mozzarella or other soft cheese would be. I love it all the same!
Here in the U.S., they mostly make this cheese from pasteurized milk (from cows, most of the time, not from goats). And guess what else, cheddar lovers? This cheese classifies itself as a cheddar cheese! So add it to your favorites if you are truly crazy for cheddar.
It's got a nutty, fruity aroma overall but not in an annoying way as with blue cheese (which I can not stand the smell of). It smells rich and good. I think all noses should approve.
And this cheese comes from America. Yup, it was born and bred here first, so to speak. It is not an Italian cheese. Go figure.
It did start in Wisconsin, of course. The Sartori company I briefly mentioned is based right out of there (in the nice city of Plymouth, to be more exact). This cheese is more than 20 years old, having been officially "born" in 1999 right there at one of the company's first factories. BellaVitano Gold —- ever heard of it, by chance?
This was the first BellaVitano type of cheese made by the company and instantly became a top - seller. It now comes in so many different flavors, the raspberry still remaining the favorite of many cheese lovers. So, enough has been said — check out this great cheese as soon as possible!